Ask Dr. Julianne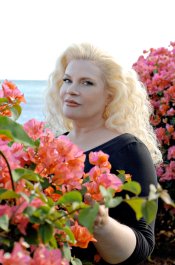 Aloha from Maui, Hawaii! Welcome to my blog.  I am happy and grateful to be sharing my heart with you.
The years I have lived on the beautiful island of Maui have been a kind of retreat.  I have had the gift of time–to go within, to explore my consciousness, challenge my beliefs, experiment with different points of view.  Most importantly, my years in the Land of Aloha have inspired a deeper relationship with my dearest friend, the Holy Spirit.  Whatever name we give to the Divine Presence, I believe the sweet experience of sacred love is shared by us all.
It is easy to feel a loving connection to life in Hawaii–trade winds carry a soft scent of flowers that caresses each breath.  Days on end of blue skies and even bluer ocean waves can comfortingly mesmerize.
And yet, for those of us who live here, life as a spiritual being having a human experience has the requirements of life everywhere.
We must find ourselves, find our friends, find our faith and our purpose.  When we look for satisfying results of our searching, the best evidence we have of life well lived are happy relationships–whether the relationship is with ourselves, our family, friends, colleagues, our lover or mate, or with our God.
I am both humbled and excited about inviting you along on my own adventure in creating happy relationships.  Perhaps my lessons will spare you some heartbreak, comfort or encourage you, even bring you laughter or inspiration.
There are many questions I am asked in my roles of psychologist, chaplain and intuitive.  I will do my best to answer some of these as the Spirit guides me.   This blog may evolve into, "Ask Dr. Julianne," or such a column might be added to the website–we will see what the future holds.
Thank you for visiting me.  God bless you in creating the happy relationships of your dreams.  I so look forward to knowing you better.
Love and blessings,
Dr. Julianne
Tags: Hawaii, Intuition, Maui, Prayer, Psychology, Relationship Advice, Spiritual Counseling